Introduction to USSC Amendment 821 Part A & B: Zero Point Offender / Status Points Reductions ​
On August 24th, 2023, the United States Sentencing Commission (USSC) in an historic vote on Amendment 821, made both Part A and Part B of the amendment retroactive. SentencingStats.com has provided this free guide to help up to 20,000 inmates navigate the process.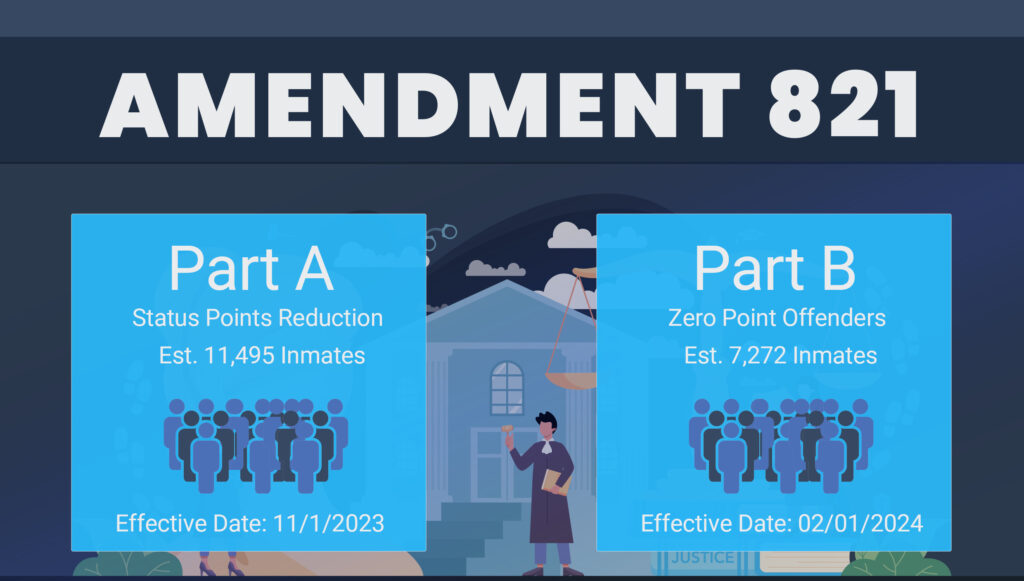 United States Sentencing Commission (USSC) Amendment 821 provides for potential Federal sentence reduction / post-conviction relief for approximately 20,000 Federal inmates. The August 24th decision makes retroactive the application of Parts A and B, Subpart 1 of Amendment 821 to the Sentencing Guidelines. Part A limits the criminal history impact of "status points" under § 4A1.1(e) and Part B creates a new chapter 4 guideline at § 4C1.1, resulting n a decrease of two offense levels, for certain zero point offenders.
What are Status Points? Status Points are the additional criminal history points assigned to defendants for having committed the instant offense while under a criminal justice sentence (such as probation, parole, supervised release, imprisonment, work release, or escape).
The amendment includes Parts A and B, Subpart 1 of Amendment 821 in the listing of amendments eligible for retroactive application. However, it adds a special instruction stating that no reduced term of imprisonment can take effect before February 1, 2024.
The purpose of the delayed effective date is to give courts time to review cases, allow defendants access to reentry programs pre-release, and let agencies prepare for increased responsibilities. Defendants cannot be released before February 1, 2024 under this amendment.
Notably, the amendment provides a new application note clarifying that courts can still conduct proceedings and enter orders before February 1, 2024, as long as the reduced term doesn't take effect until on or after that date. As such, it is highly recommended that Defendants begin preparing and filing appropriate motions now, in anticipation of an enormous influx of motion requests.
The amendment aims to achieve sufficient reduced ranges for some offenders while still allowing judicial discretion on whether reduction is appropriate. It does not affect lawfulness of original sentences or entitle defendants to reduction.
The delayed effective date balances interests of courts, defendants, and agencies. Overall, the amendment expands retroactive application of sentencing reductions while implementing a transition period. Learn more in our video at the bottom of the page.
New! Amendment 821 Sentence Reduction Calculator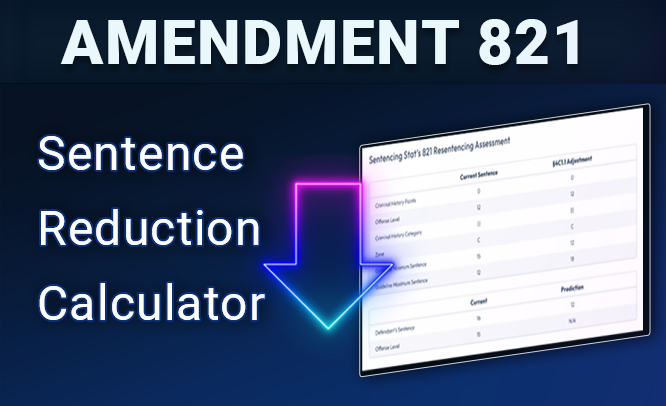 View our Infographic for Amendment 821 (Part A - Status Points)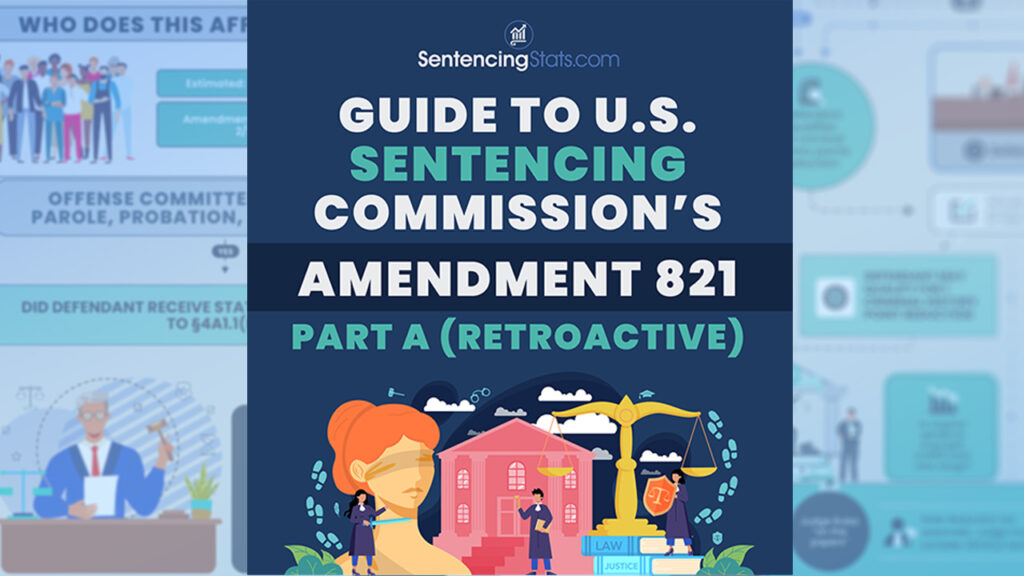 View our Infographic for Amendment 821 (Part B – Zero Point Offender)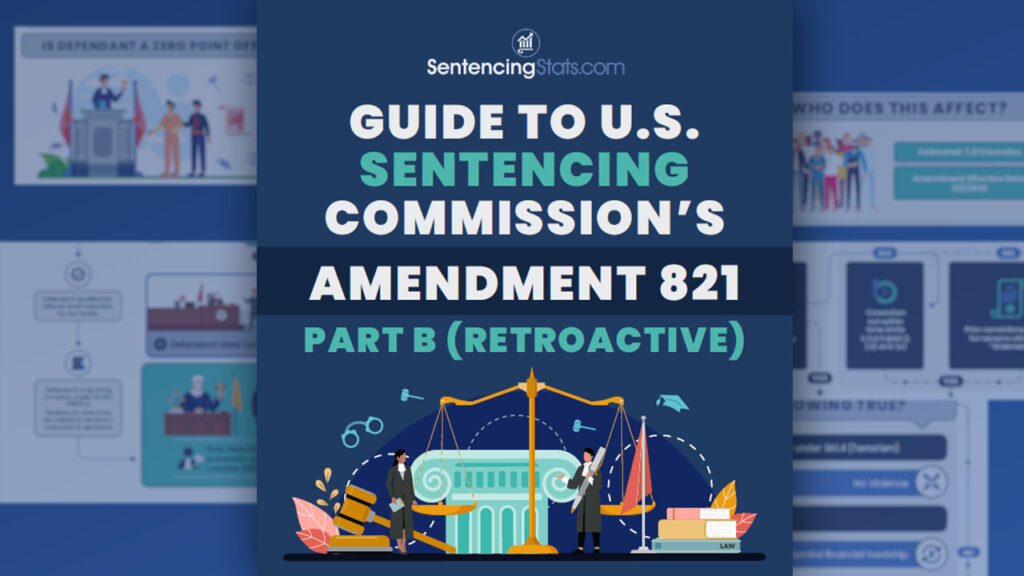 Amendment821.com is owned and operated by SentencingStats.com as a free resource. SentencingStats.com is A.I.-based leader in Federal Sentencing data and analytics.
SentencingStats.com was founded with the intent of providing affordable, actionable data and analytics to Federal defendants and their counsel. Our reports are fully accepted by the courts as code-compliant and highly accurate. Our data and analysis is regularly utilized at sentencing to demonstrate trends, comparable cases, expose racial bias and support special situations like compassionate release. 
SentencingStats has developed a turnkey solution for both Zero Point Offender defendants and defendants who qualify for a two status point reduction. We believe our tools are essential for successfully maximizing the mitigation opportunity at resentencing.
Do you Qualify for an Amendment 821 Reduction?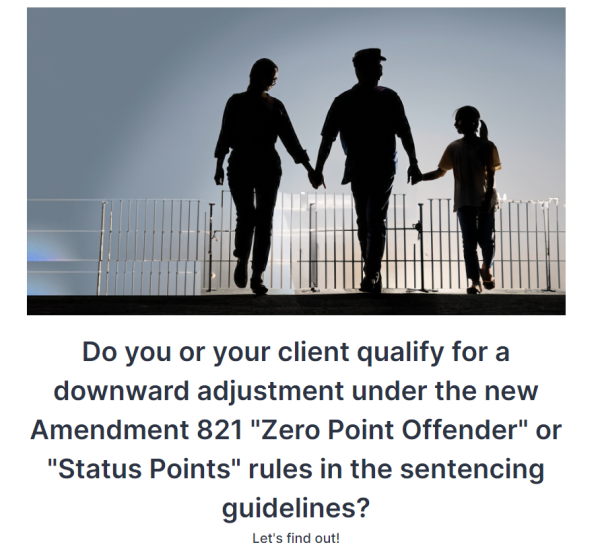 We have developed a FREE and easy Amendment 821 Prequalification Calculator. If you want to confirm if you qualify for an Amendment 821 sentence reduction, simply answer the question in the below form and our system will let you know if you are a candidate for a reduction under Part A or Part B of Amendment 821. 
Would you like a consultation?
SentencingStats is dedicated to helping you navigate through the complex process of resentencing mitigation. Contact us below for a consultation about your case.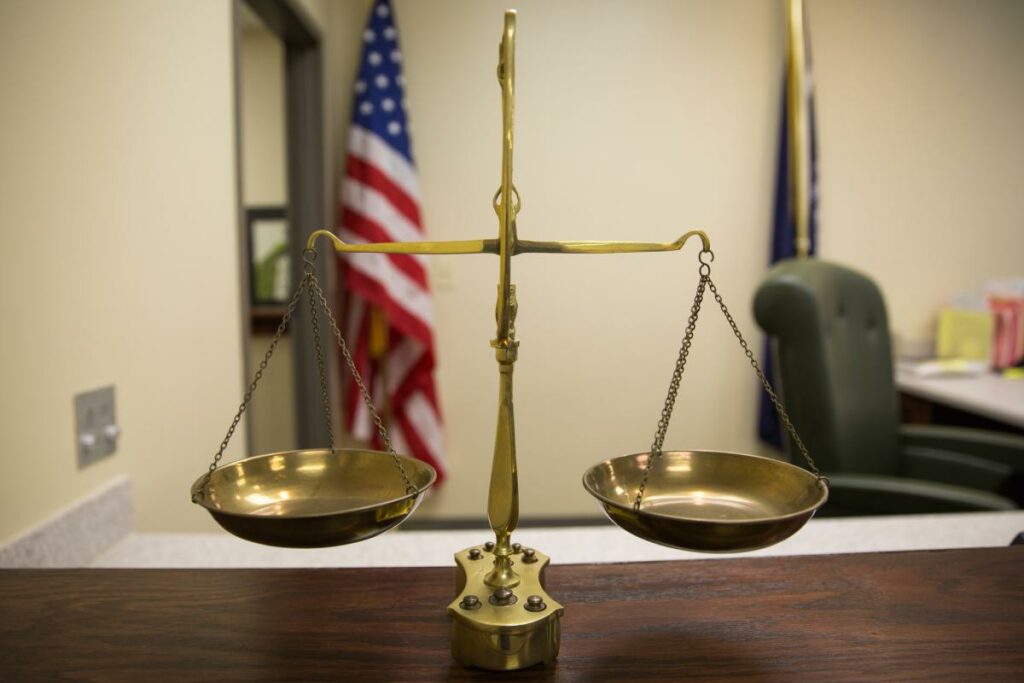 Let us together determine your future
With SentencingStats.com, you are not alone. We are experts in utilizing data and analytics in Sentence Mitigation. In fact, many attorneys consider us their 'secret weapon' So, if you are looking for solutions that help you maximize your opportunity for a reduced sentence, look no further than our Zero Point Offender sentence reduction kit.
Highly Motivated Team with Innovative Ideas
We love what we do and therefore come up with the best possible solutions to help you maximize your mitigation opportunities at sentencing. We are your trusted partners you can count on.